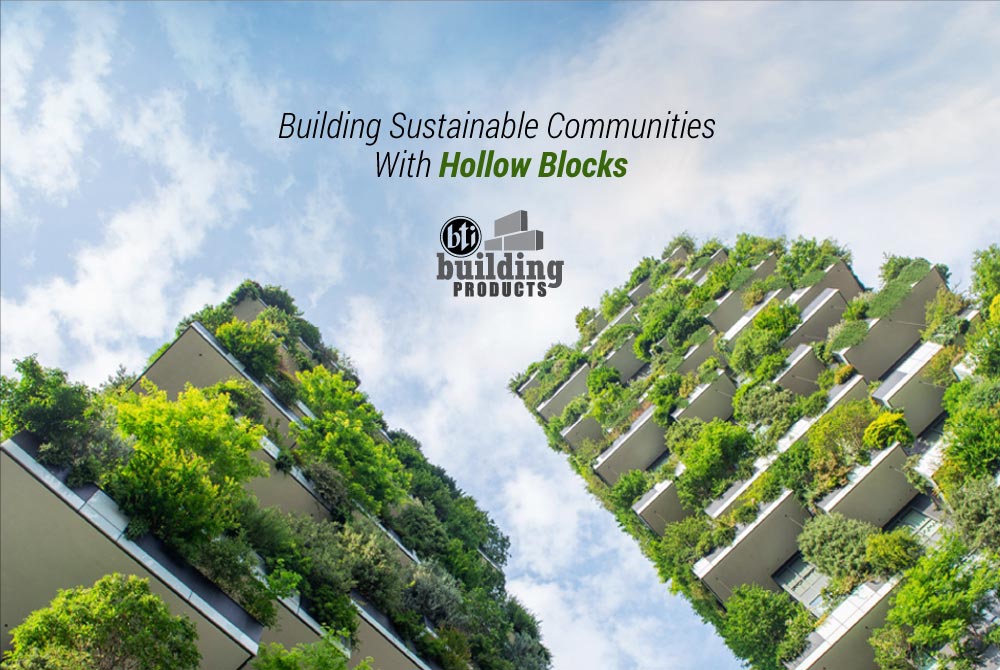 Building Sustainable Communities With Hollow Blocks
When it comes to creating eco-friendly communities, one crucial aspect that often goes unnoticed is the choice of construction materials. Traditional methods of construction are known to have a significant impact on the environment. However, in recent years, the use of hollow blocks has gained recognition as a sustainable alternative. In this blog, we will explore how hollow blocks can contribute to the development of sustainable communities, promoting a greener and more eco-conscious future.
Understanding Hollow Blocks:
Hollow blocks, also known as concrete masonry units (CMUs), are lightweight building materials made from a mixture of cement, aggregate, and water. The primary feature that distinguishes them from solid blocks is their unique hollow core. This hollow space reduces weight, increases insulation, and offers an array of benefits for sustainable construction.
Energy Efficiency:
Hollow blocks are excellent insulators, providing enhanced thermal and acoustic properties. The hollow core design allows for better airflow and reduces the transfer of heat or cold, resulting in improved energy efficiency within buildings. This aspect significantly reduces the need for excessive heating or cooling, leading to lower energy consumption and reduced carbon emissions.
Waste Reduction:
One of the significant advantages of using hollow blocks is the reduction of material waste. Traditional solid blocks require more materials for construction, leading to increased waste production. Hollow blocks, on the other hand, optimize material usage, utilizing less cement and aggregate while maintaining structural integrity. This reduction in waste not only minimizes environmental impact but also decreases construction costs.
Water Conservation:
The manufacturing process of hollow blocks consumes significantly less water compared to other construction materials. Traditional brick production often requires large amounts of water for shaping and curing. Hollow blocks, being precast units, use considerably less water during production and have a quicker curing time. This reduction in water usage helps in conserving this precious resource and promotes sustainable construction practices.
Increased Durability:
Hollow blocks possess inherent strength and durability, making them an ideal choice for sustainable construction. The hollow core design enhances load-bearing capacity and resistance to external forces such as earthquakes, thus ensuring the longevity of structures. The durability of these blocks reduces the need for frequent repairs and replacements, leading to lower construction waste over time.
Versatility and Adaptability:
Hollow blocks offer flexibility in design and construction, making them suitable for various architectural styles. Their modular nature allows for easy customization and adaptability to specific project requirements. The ease of installation and assembly of hollow blocks promotes efficient construction practices, saving time and resources.
Disaster Resilience:
In disaster-prone areas, building resilient communities is crucial. Hollow blocks, due to their strength and ability to withstand external forces, contribute to the construction of disaster-resistant buildings. The hollow cores also provide additional space for reinforcing bars and insulation, further enhancing the structural integrity of the buildings.
The use of hollow blocks offers a range of benefits, including energy efficiency, waste reduction, water conservation, increased durability, and adaptability. By embracing these innovative building materials, we can create sustainable communities that prioritize environmental stewardship without compromising on structural integrity or architectural aesthetics. Let us take a step towards a sustainable future by incorporating hollow blocks into our construction practices and contributing to the preservation of our planet for future generations.