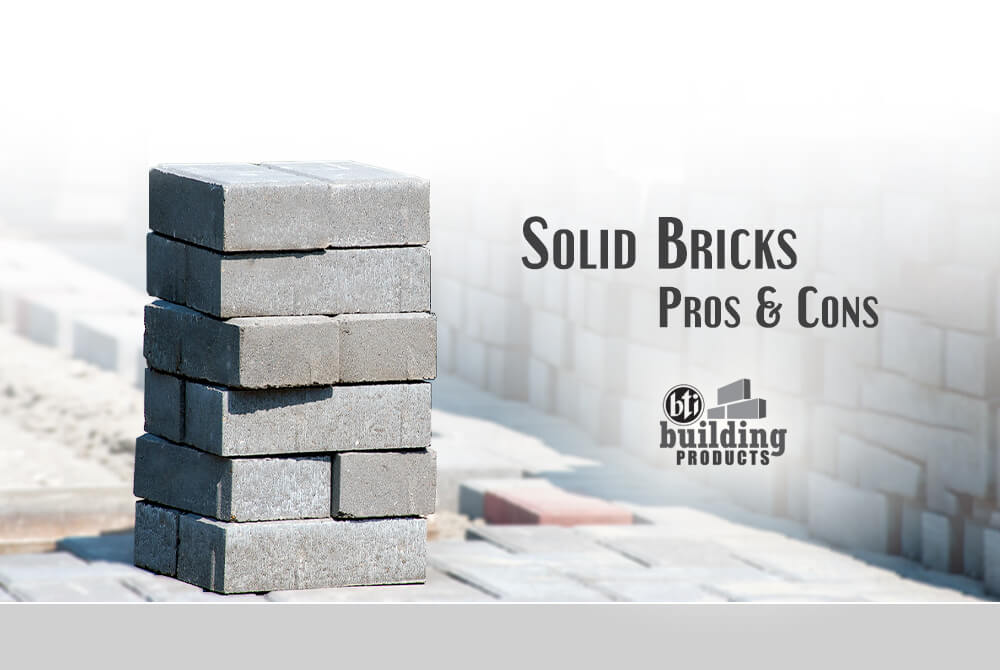 Concrete Solid Bricks: Pros & Cons You Need to Know
Introduction
When it comes to construction materials, concrete solid bricks have gained significant popularity due to their durability and versatility. They have become a preferred choice for various construction projects, from residential homes to commercial buildings.
In this blog, we will explore the pros and cons of concrete solid bricks to help you make informed decisions for your construction needs.
Pros of Concrete Solid Bricks
Durability and Strength: 

Concrete solid bricks are known for their exceptional strength and durability. They can withstand heavy loads and adverse weather conditions, making them ideal for long-lasting structures.

Fire Resistance: 

Concrete solid bricks are inherently fire-resistant, providing an added layer of safety to buildings. They do not combust easily and can prevent the rapid spread of fires, giving occupants more time to evacuate.

Thermal Efficiency:

These bricks offer excellent thermal insulation properties, helping maintain a comfortable indoor temperature. They reduce the need for excessive heating or cooling, resulting in energy savings and lower utility bills.

Sound Insulation: 

Concrete solid bricks have sound-absorbing properties, minimizing noise transmission between rooms and from outside sources. This is particularly beneficial for residential areas located near busy streets or noisy environments.

Environmentally Friendly:

Concrete is made from natural materials like cement, water, and aggregates, making it an eco-friendly choice. Furthermore, the long lifespan of concrete solid bricks reduces the need for replacements, thus reducing overall environmental impact.

Low Maintenance:

Once constructed, concrete solid bricks require minimal maintenance, saving time and money in the long run. Regular inspections and minor repairs are generally sufficient to keep the structure in excellent condition.
Cons of Concrete Solid Bricks
Weight:

Concrete solid bricks are heavy, which can make transportation and handling more challenging than lighter alternatives. This may lead to higher transportation costs and the need for specialized equipment during construction.

Energy-Intensive Production:

The production of concrete bricks involves a significant amount of energy consumption. The manufacturing process includes the use of cement, which is responsible for a notable portion of carbon dioxide emissions.

Cracking and Shrinkage:

If not constructed properly, concrete solid bricks may be susceptible to cracking and shrinkage over time. Proper curing and construction techniques are essential to mitigate these issues.

Limited Design Flexibility:

Unlike some other construction materials, concrete solid bricks may have limitations in terms of design flexibility. Complex architectural designs may require additional planning and engineering.

Slow Curing Time:

Concrete solid bricks take time to cure and reach their full strength. This can slow down construction projects, especially if the construction schedule is tight.
Conclusion
Concrete solid bricks offer numerous advantages for construction projects, from their exceptional strength and durability to their eco-friendliness and fire-resistant properties. They provide excellent thermal and sound insulation, ensuring a comfortable and safe environment for occupants. However, it is crucial to consider the weight, energy-intensive production, and potential issues like cracking and limited design flexibility.
Ultimately, the decision to use concrete solid bricks depends on the specific requirements and goals of your construction project. Consulting with a professional architect or engineer can help you make the best choice for your needs, ensuring a successful and sustainable construction venture.