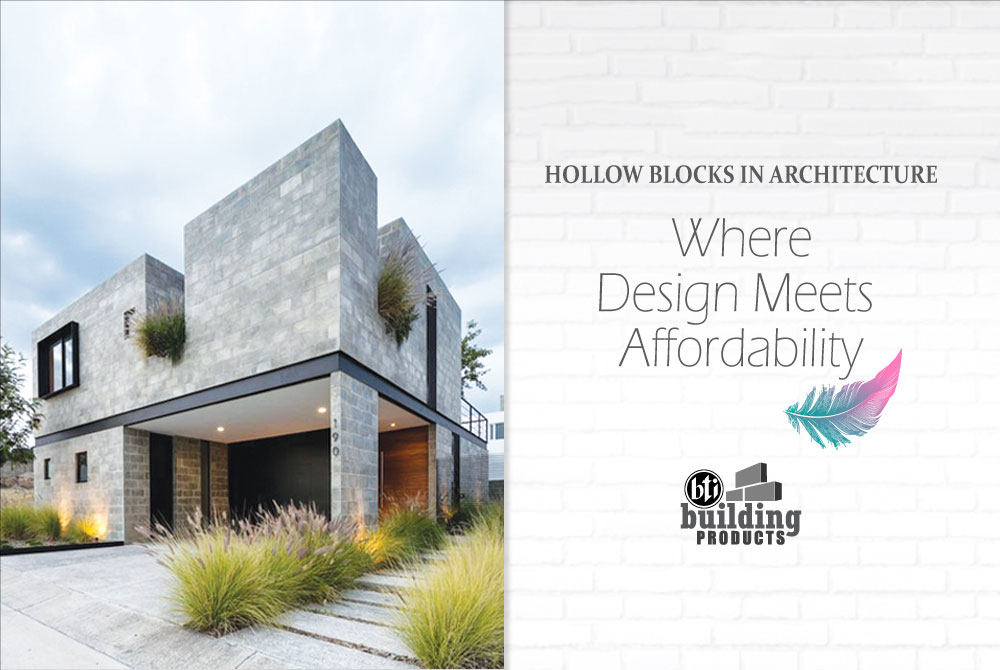 Hollow Blocks In Architecture: Where Design Meets Affordability
Shelter, along with food and clothes, is one of man's three fundamental needs. Prehistoric humans lived in caves and eventually started building mud walls. Over time, numerous masonry techniques were created, eventually forming a structural component of the shelter. Burnt brick and stone masonry were common in the beginning.
With the growing demand for construction, cheaper and faster techniques and materials are the need of the hour. Keeping that in mind, then came the idea of concrete blocks. 
There are two types of concrete blocks. 1. Solid, & 2. Hollow. We will talk about hollow concrete blocks and their advantages in this following article.
Why Concrete Blocks?
Source: Arch Daily
Concrete blocks are the type of building material that makes it possible to build structures more quickly and affordably than traditional bricks.
Because of their uniform size and shape, these blocks are simple to install. They are also lighter, which allows for faster construction work. Hollow blocks are simple to deal with, even for newly trained workers. Concrete hollow blocks are extremely eco-friendly.
How Can We Incorporate Hollow Blocks Creatively Into Architecture?
Source: Arch Daily
The fundamental building component has evolved to give more comprehensive solutions, such as waterproofing. Some current models have additives added to the mixture that creates them to raise the surface tension of the block and prevent water movement. There are other blocks with varying edges to deflect water away from the surface.
Hollow blocks are used to build different kinds of walls for different purposes like retaining walls, decorative walls, classic walls, etc.
Advantages Of Hollow Concrete Blocks in Architecture
Source: Arch Daily
The excellent durability of concrete hollow blocks is one of their major aspects. Concrete hollow blocks are compressed by high pressure and vibration, resulting in exceptionally strong blocks that can bear a high amount of loading. 
They are also resistant to fire and have no salinity, which lowers their maintenance costs.
The use of larger concrete blocks minimizes the number of joints in the work and so saves mortar. Hollow concrete blocks have good insulating properties against sound, heat, and dampness.
The hollow blocks provide good stability to the structure. So, these blocks are used for a large work of masonry. They have been used in load-bearing walls as well as non-load-bearing walls.
Take Away
Source: Arch Daily
Working with hollow concrete bricks benefits both construction businesses and homeowners. Architects all over the world are taking advantage of the design adaptability that hollow bricks provide, allowing them to cut project costs while maintaining spatial and architectural quality in high-end, luxury venues. 
Construction firms are also beginning to experience operational gains, while homeowners are reaping the benefits of decreased heating, cooling, and maintenance expenditures.