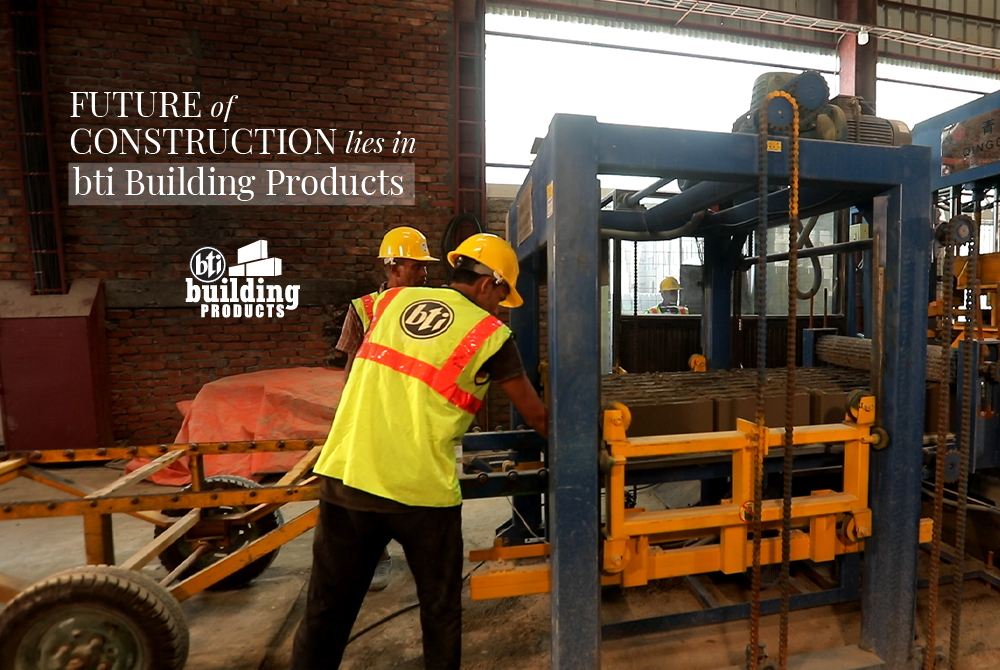 Future of Construction Lies in bti Building Products
To eradicate pollution for the sake of public health and environment, eco-friendly building
materials are imperative. bti came forward with the initiative to care for the environment by
establishing the world-class bti Building Products factory in Dhamrai. The state-of-the-art
technology and supporting architecture of this factory are used to manufacture eco-friendly
building products, namely Concrete Hollow Block, Concrete Brick, Pavement Tile and
Unipaver. Landowners, developers and clients can ensure the highest quality of construction of
their residential and commercial projects with these building products. In this blog, you will find
out the innovative approach used by the factory to create quality building products.
The Quality We Maintain
The production processes of Concrete Hollow Blocks, Concrete Bricks, Pavement Tiles, and
Unipavers are all environment-friendly, and they incorporate recycling as an essential step. The
factory is spread across 5 ½ bigha land. Various respected dignitaries, including the Bangladesh
Army visited our factory to see how we maintain high quality throughout the manufacturing
process. Our quality control lab ensures that every piece produced is perfect for usage. After
production our blocks and bricks go through the following BUET-approved tests- Compressive
Strength Test, Water Absorption Test and Salinity Test. Only after passing these tests
successfully, our building products get approval to be sold in the market.
The Building Materials We Use
Concrete Hollow Blocks and Concrete Bricks are made of stone chips, coarse sand, fine sand,
local sand, stone dust, pea gravel, and cement. Our Pavement Tiles and Unipavers are also made
of such materials. Being made of these substances, our building products are highly durable,
tough, and can withstand immense load. Our building products are salinity and heat-resistant
and prevent dampening. Combined with earthquake-resistant technology, they create formidable
building structures that can stand the test of time.
Modern Machinery and System We Use
In our factory eco-friendly products are made through machine-automation without any
environmental pollution. We have feeding unit, mixing unit, hopper, cement silo, conveyor belt,
palette store, hydraulic press unit, and block stacking yard in our Dhamrai factory. The full
processing system is monitored by our experts. As our products are machine made, they are
consistent in finish, accurate in size and weight, and easy for installation in your residential and
commercial projects. Besides these benefits, you are also getting an extra advantage of
customizing the products after your choice if you buy from us.
Assistance and After-Sell Service
Construction work with our building products requires you to undertake processes such as
chipping, grouting, mortar laying, block work, pie chip casting, wire mesh setting, painting, etc.
Arranging technicians, workers and labourers for the whole procedure needs experts and trained
people. bti Building Products not only manufactures and sells products but also offers both
technical support and training to the customers. We send our expert architects and workers to
support and train your workers in using our modern eco-friendly products. Therefore, you can
avail construction products, assistance and services from bti Building Products without any
further difficulty in arranging for your construction.
Red clay bricks and such other traditional building materials have proved to be fragile,
inconsistent in finish and not highly durable. As a result, buildings made of them are prone to
earthquakes and weariness over time. In such a context, out of social responsibility and
willingness to contribute to the construction sector, bti established bti Building Products. Since
its inception, our factory in Dhamrai has been manufacturing eco-friendly high-quality
construction materials for providing you the best building products and related services for your
residential and commercial projects. We have been successfully manufacturing our products
since 2014 with an aim to reduce our carbon footprint, in line with the recent Government rules
of making concrete hollow bricks and blocks mandatory by 2025. We do believe the future of
construction in Bangladesh lies with bti Building Products in this regard.