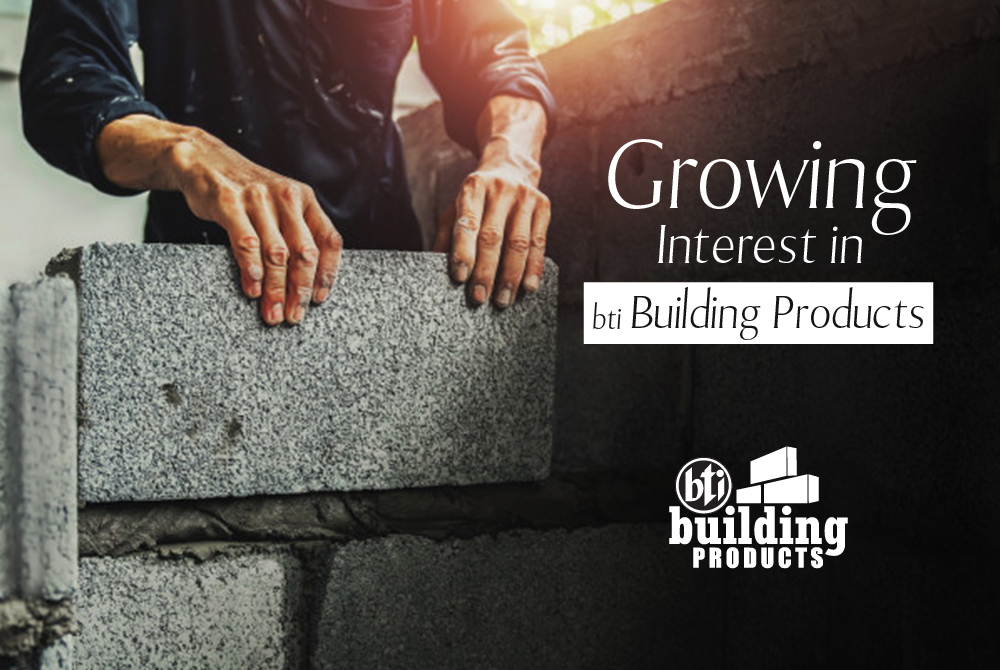 Growing Interest in bti Building Products
bti has been a pioneer in the real estate development of Bangladesh. Besides that, to contribute to the construction sector of our country and to ensure a greener environment, bti established bti Building Products which manufactures eco-friendly Concrete Hollow Blocks, Concrete Bricks, Pavement Tiles and Unipavers. As our government has taken initiative to make such environment-friendly building materials mandatory by 2025, developers are now showing more interest in our products.
Why Developers Say Our Products Are of High Quality:
Exceptional Quality of Concrete Block and Concrete Brick
Our products are superior in quality with multiple benefits. Being hollow inside, Concrete Hollow Block does not only make a building earthquake-resistant, but also soundproof. It is a natural heat absorbent and ensures heat protection, so it can be the right choice for creating your rooftop. It is salinity and damp-proof, and so remains unaffected by weather conditions. Being machine-made, Concrete Block is consistent in finish, and so easy to install somewhere. It can withstand high strengths as it is made of cement, coarse sand, fine sand, pea gravel and stone dust. Being cost-effective, highly durable and aesthetically appealing, this block is used for architectural decoration purposes, internal partition walls, external boundary walls and rooftop.
Concrete Brick also has most of the qualities of Concrete Hollow Block except the hollowness, but it also has versatile applications. This brick is the same in size and cost as traditional red clay brick, but is highly durable in comparison.
Outstanding Quality of Pavement Tile and Unipaver
Being strong (high PSI) and highly durable, our Pavement Tile can withstand huge loads, and so it can be used for making entryway, walkway, driveway, parking lot, sidewalk, basement and rooftop of both residential and commercial projects. This tile is also excellent for making industrial yards. Depending on your usage purpose you can also customize the PSI (strength) of the Pavement Tiles. We have four colours of Pavement Tiles which are homogeneous in shape for easy installation and maintenance. The natural earthy tone of the tiles can make your home walkways appear more classy. For attractive floor finish and adding elegance to your tracks, Pavement Tiles can be very effective.
The high strength and durability of Unipaver made it popular as a flooring material which is used in footpaths, walkways, pavements, driveways, factory yards and garden landscaping. You can choose out of these five colours- Red, Yellow, Blue, Royal Blue and Grey. It also comes in a range of sizes. Being machine-made, our Unipaver is environment-friendly, cost-effective, accurate in dimensions and convenient for usage.
We Provide Earthquake Resistant Building Products:
Real Estate Developers are showing increased interest in Concrete Hollow Blocks manufactured by bti Building Products. Buildings made of our blocks are earthquake resistant as they are tested by research. The hollowness of these blocks makes them lighter in weight than the traditional red clay bricks, and so the overall load of the walls and buildings made of Concrete Hollow Blocks is reduced to a large extent.
Why Developers Want to Buy from bti Building Products:
bti has a reputation for around four decades for high quality of construction. The exquisite quality of our building products has earned high regard from developers and customers from all walks of life.  They expressed satisfaction using our building products and availing our unbeatable services for construction. Besides being committed to maintaining the quality of our products and services, bti Building Products also strictly maintains government rules in manufacturing eco-friendly construction materials. It is no surprise that developers are showing increased interest in the products and services of bti Building Products.