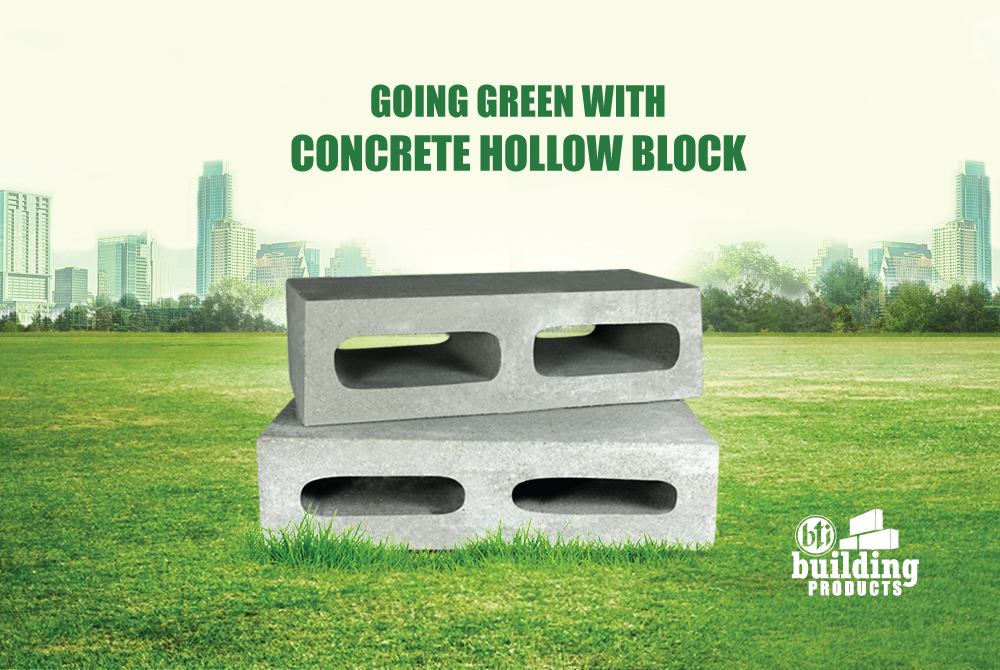 Going Green with Concrete Hollow Block
Out of Necessity Appears Concrete Hollow Block
Using fire-burnt clay bricks to meet the ever-rising need of homes and industries in Bangladesh has been a common phenomenon. The excessive emission of harmful pollutants from kilns has already made our environment unhealthy for living. These pollutants affect our respiratory and cardiovascular systems. Besides, making clay bricks requires top-soil, which is the most arable part of soil. So there has always been a demand for an eco-friendly replacement of red clay bricks. With the advancement in construction technology we have got hollow blocks, which are fully machine-made. Therefore, its production process does not emit pollutants or toxic gases into the environment. With a responsibility to save the environment, 'bti Building Products' has been producing and using Concrete Hollow Blocks for own projects of bti in Dhaka and Chattogram, and now also selling it to all real estate developers and homeowners.
Green Building Movement
To protect the environment, eco-friendly building materials have gained popularity over time. Though Green Building Movement started globally since the 1970s, it has gained momentum in Bangladesh in the last few years as well. It is praiseworthy that Bangladesh government has taken steps for the production of blocks to mitigate environmental damage and to save agricultural lands. To promote this Green Building Movement, bti has been manufacturing and using Concrete Hollow Block since 2014.
Steps Taken to Pave the Way of Concrete Hollow Block
Saving our environment from air pollution has now got significance. Environment, Forests and Climate Change Minister of Bangladesh Government, Md Shahab Uddin expressed to the media (after the 15th meeting of the executive committee of the National Environment Committee) that hollow blocks would be made mandatory step by step to prevent air pollution. He emphasized that we should protect the environment at any cost, and assured that effective measures would be taken to reduce tariffs or provide govt. initiatives for the production of environment friendly hollow bricks and blocks. The government had already issued a gazette on November 24 making provision for using blocks in its construction projects instead of bricks. To save our environment, Mallick Anwar Hossain, Additional Director General of the Department of Environment had declared, "We have decided to completely shift to blocks from fire bricks by 2025."     
To phase out the uses of bricks by 2025, government has decided to use blocks for walls of building, herringbone bond roads, and type B village roads. Government has planned to use concrete blocks in its construction projects by 20% within 2020-2021, 30% within 2021-2022, 60% within 2022-2023, 80% within 2023-2024, and 100% by 2025.
Usefulness
Concrete Hollow Block is machine-made, eco-friendly and consistent in its finish. The void area inside Concrete Hollow Block makes it sound-proof. Being lightweight, it can be easily installed according to the desired architectural design. The low water-retention capability of Concrete Hollow Block reduces risk of dampening. Being salinity-proof and unaffected by change of weather conditions, Concrete Hollow Block is cost-effective for maintenance. By incorporating it into any installation one can reduce heating and cooling cost and other maintenance fees. Concrete Hollow Block is highly durable, and can withstand a high level of loading. Using this block is equally beneficial to construction companies and individual homeowners. The environment friendly and versatile appeal of Concrete Hollow Block has already made it popular within the developers, builders and homeowners.
Last but Not the Least
It's high time all real estate developers and homeowners started using long-lasting eco-friendly Concrete Hollow Blocks instead of harmful fire-burnt fragile clay bricks to mark the outstanding environment-friendly progress of Bangladesh in the real estate business.