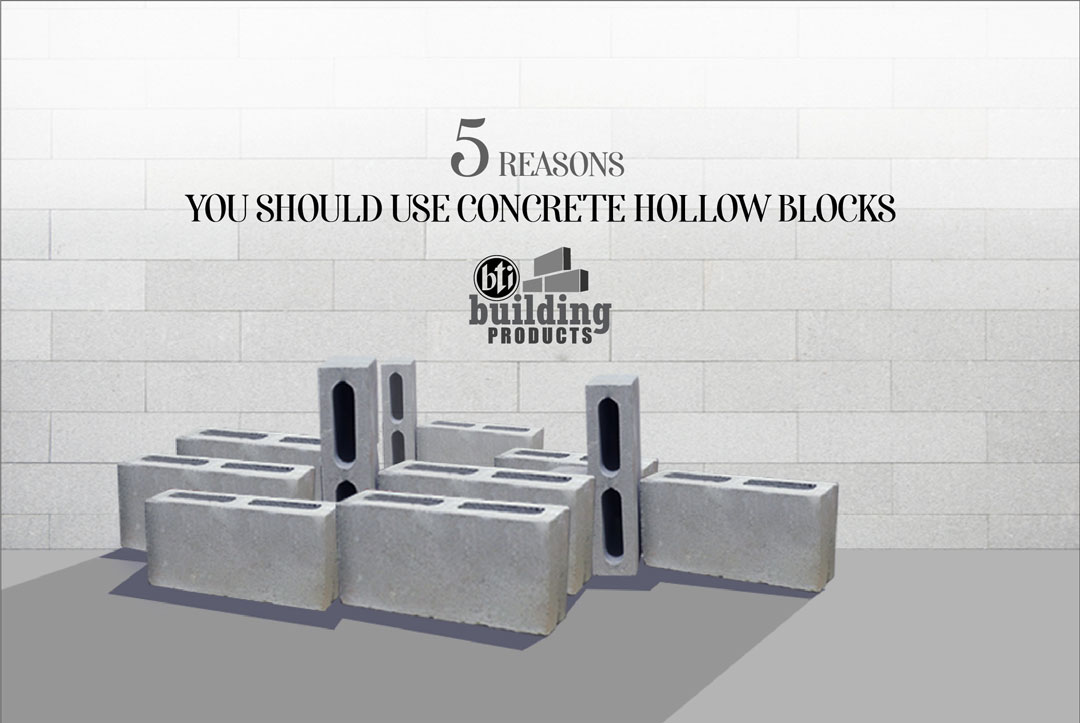 5 Reasons You Should Use Concrete Hollow Blocks
In a densely populated country like Bangladesh, it is crucial to keep pace with the ever-growing housing needs of every citizen. Consequently, the dependence on domestic construction materials is also on the rise and one of them is Concrete Hollow Blocks. As a result, the prices of building materials are soaring but the price of concrete hollow blocks in that sense is quite moderate. This superb building material brings about a myriad of benefits for construction which is why it is seemingly getting more popular day by day. Hollow blocks do not require any gas, burning coal, fertile soil, and do not emit carbon dioxide in any way. In short, it is completely an environmentally friendly building material. Not only that, this product offers various advantages, unlike the traditional red bricks. Let us explore more about its benefits.
Strength and Safety Like None Other
Concrete hollow blocks are widely used because of their unbeatable durability. The compressive strength depends on the composition of the blocks. They are made with high pressure and vibration which make them durable to last for decades. Moreover, their ability to withstand heavy loads and their lightweight nature reduce the overall weight of the building. The stable foundation and the ability to withstand heavy loads provide great safety from earthquake havoc and other natural disasters.
Superior Quality
The housing sector is rapidly getting dependent on the hollow blocks because of their superb quality. They are made in automatic machines with cement, crushed stone, soil, stone dust, etc. Whereas terracotta bricks are made only with clay. As a result, the durability of terracotta bricks decreases day by day. They are also fragile and susceptible to damage. On the other hand, the stability of the hollow blocks does not deteriorate over time. Consequently, hollow blocks when used in walls do not get weakened or stained easily.
Cost-effective Construction
The biggest aspect of using hollow blocks is that the construction cost is comparatively less than the traditional red brick. Cement-sand is less required in the masonry of concrete block walls. Additionally, it reduces the weight of the building and the construction also takes less time than usual. One block is capable of replacing 5 red bricks which ultimately reduces the construction cost. Being made of concrete makes it even stronger and increases the durability of construction with the passage of time. Hollow blocks come in uniform sizes and the consistent finish makes them easy to install and speeds up construction. Another positive aspect is that walls made of blocks can be finished with paint which reduces the overall cost of interior decoration.
Adaptable to Any Weather
The hollow blocks are not only durable but also adaptable to any kind of weather change. They are highly capable of withstanding any form of weather be it sunny or stormy. The houses built with hollow blocks remain cold in summer and hot during winter. Concrete Hollow Blocks from bti building products are made with high-quality raw materials such as fine sand, Sylhet sand, pea gravel, coarse, etc. These materials make the blocks remain unaffected by natural disasters. So undoubtedly, hollow blocks are an ideal choice for ensuring a solid foundation for any construction. Another important factor of hollow blocks is that their hollow nature prevents sound and heat thus making your walls soundproof and damp proof. In contrast, walls made with red bricks get easily moistened and damaged especially during monsoons.
Environment-friendly
Unlike the traditional red bricks, hollow blocks do not need to be burnt; they are made by automatic machines which means they cause no harm to the environment. On the other hand, fertile soil is needed to make red bricks. As a result, agricultural land is being used in all the traditional and modern fuel-saving brick kilns, and automatic brick factories in Bangladesh. Furthermore, wood is being used as fuel in almost all traditional brick kilns. Imported coal, even gas, is being used as fuel. Thus, the use of fertile soil is wasting agricultural land which is why using agricultural land for brick production is now banned in China and India. However, according to a study by the House Building Research Institute (HBRI), "The cost of building construction could be brought down by 25 percent with the use of eco-friendly materials like hollow blocks, instead of traditional bricks." The government has already announced to completely ban the use of traditional red bricks from 2025 to save the environment. So, from now on, it is better if we adopt to use hollow blocks for any construction project.
It is crystal clear that the benefits of hollow blocks are numerous which is why their popularity is also increasing very rapidly. However, in terms of low-cost construction, high-quality finish, earthquake resistance, and most importantly ensuring a safe and solid foundation for your family, there is no alternative to using concrete hollow blocks. So, if you are worried about your upcoming construction then concrete hollow blocks from bti building products will undoubtedly be an ideal option for you.