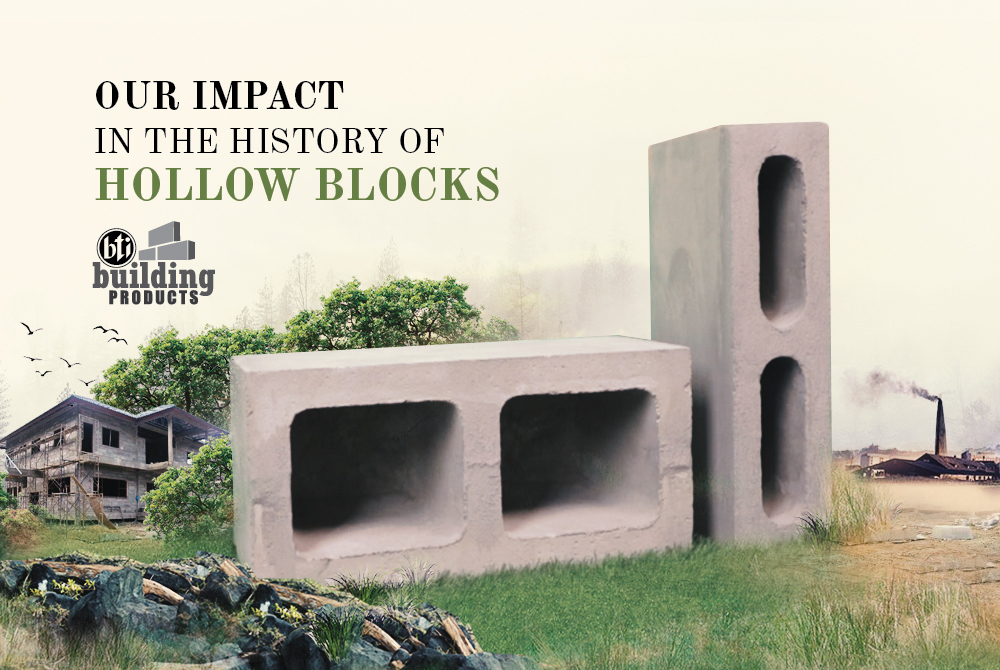 Our Impact in the History of Hollow Blocks
The typical scenario in Bangladesh for decades has been the use of traditional red bricks during construction. Normally one would believe that they have been around for a very long time, but the truth is concrete hollow blocks have also been used since ancient times. In fact, concrete mortar was first used by the Romans around 200 B.C to bind already shaped stones into buildings. Since then, concrete hollow blocks have come a long way. The blocks also made its way in Bangladesh, and bti Building Products was a pioneer to bring them to the forefront of building materials since 2010.
How it Started
The Romans were famous for using concrete mortar. In Naples there were formations created using small precast blocks. Much of that technology was lost after the fall of the Roman Empire. It was only in 1890 that the revolution started, when Harmon S. Palmer of the United States patented the hollow concrete block that he designed himself. His block was so heavy it had to be lifted around with a crane, but nevertheless, it became incredibly popular. Soon, as many as 1500 companies started using concrete hollow blocks for construction. The first home made entirely of concrete hollow blocks was built in 1837 in Staten Island, New York. The reason there was a sudden boom in its use was because the materials required to create it were available in abundance. The raw materials are easily available even now. Back then all blocks were made by hand. On an average, a person could create 10 blocks per hour. 
How it is Made
A concrete hollow block is precast, meaning it is already shaped into a block and hardened before use in construction. The sides of the block may be seamless and smooth or etched with design. The block can have one or two hollow cavities within, and can be stacked atop each other with mortar. This way you can build the wall according to the desired length and height. Although it was previously made by hand, it is now made with highly efficient machines that can produce 2000 blocks per hour. All our concrete hollow blocks are precast in our Dhamrai factory, and then used in our construction. Raw materials include use of cement, water, sand, and gravel in different ratios, but further components can also be added. For example, cinder blocks are made by also adding volcanic cinder or granulated coal into the mixture. Lightweight blocks are made by adding clay, shale, or slate instead of sand. This means concrete hollow blocks can be easily modified and serve different purposes based on their different properties. Each type of block would have a certain set of properties. 
Various chemicals may also be used to alter the properties, such as modifying curing time and compressive strength. Pigments can be added for color and glaze can be added for decorative effects.
Why Use Our Concrete Hollow Blocks
bti Building Products uses lightweight hollow concrete blocks for construction purposes. It is not only a more eco-friendly approach to construction, but it also reduces time and costs. On top of that, even the government has amped up the use of concrete hollow blocks. They are also set to become mandatory in construction by 2025! Since we have led the real estate industry for decades, it only made sense to mass produce concrete hollow blocks for everyone who wants to reap its benefits. Our blocks are designed in such a way that it provides a great level of advantages. Our blocks can form lightweight buildings, which means less prone to earthquakes, are incredibly resistant to water degradation and weather issues. These blocks are vermin proof and fire proof as well, and salinity proof too. Traditional red bricks lack these properties, which is why our concrete hollow blocks are also used to create garages, factories, warehouses, offices, etc. Their adaptability and flexibility to modification allows their use in landscaping and interior design for a more urban, modernistic look in a building. 
When manufacturing, we at bti Building Products always take into consideration the client's requirements. So any additives to be added and any modifications are done with proper consultation. Concrete hollow blocks used for landscaping and interior designs are obviously slightly different in terms of properties than those used to make residences. We can provide all sorts of customization or changes. If you do not want hollow blocks, we also manufacture concrete solid bricks. Both concrete hollow blocks and solid bricks are quality controlled by experts in the field of construction. 
Now that you know the great history of concrete hollow blocks, are you interested in building something with it? If so, it is an excellent choice. They form structures that are energy efficient and durable against all odds. You will not be disappointed with our concrete hollow blocks. Call 16604 or Whatsapp: +8801313401405 for any inquiries.