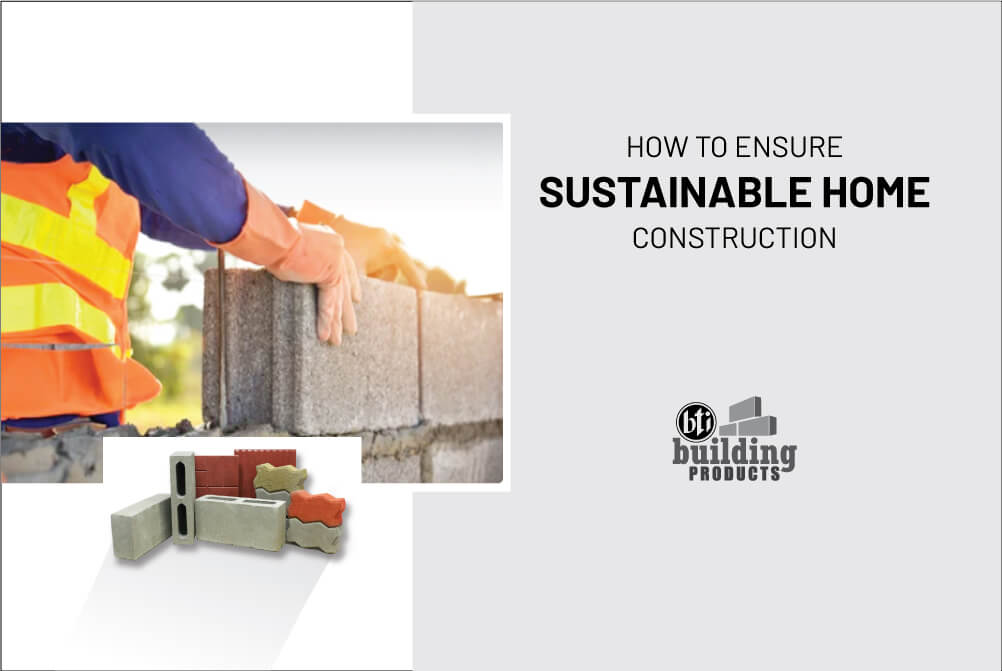 How to Ensure Sustainable Home Construction
Global climate issues combined with over consumption of fossil fuels have governments thinking of renewable and sustainable resources. Many countries have made significant progress regarding eco-friendly approaches, and Bangladesh is also not behind. Yet, the recent flooding in Sylhet and load-shedding across the country has sparked the debate of how we can do better. The government has made the use of concrete hollow blocks mandatory by 2025 to eradicate the environmental issues created with traditional red bricks. This means that the construction industry is also now at the forefront of ensuring sustainability. People are highly encouraged to build eco-friendly homes. Here is how you can build one too!
Use Concrete Hollow Blocks
Many people in our country still prefer the age-old method of using traditional red bricks for construction. There are several disadvantages with bricks. For example, their production in the kilns result in massive air and water pollution. Red bricks are also more prone to weather damage. They are also not too resistant against salinity, dampness, or sound. Traditional bricks are also not great with thermal insulation, and use too much water taken straight from the environment. With so many negativities, it makes sense to choose better alternatives. Concrete hollow blocks are a fine example. They are eco-friendly because their production is completely machine-made with little pollution or wastage. Since they are machine-made their finishing is smooth, allowing them to be perfectly stacked on top of one another without too much use of mortar, raw materials and water from the environment. One concrete hollow block can replace the use of five red bricks! Use of concrete hollow blocks is also more cost-effective and less time-consuming for this reason. To top it all off, concrete hollow blocks are damp resistant, soundproof, salinity resistant, regulate temperatures duing summers and winters, and also more durable. 
You can also choose our concrete solid bricks which have very similar properties. You can use concrete solid bricks and hollow blocks to build your home along with a boundary for security. 
Install Solar Panels
Solar panels are available across most homes in Bangladesh and for good reason. It is a great renewable form of energy that is used as electricity. Installing them on top of buildings is also relatively inexpensive, so make sure to use them generously!
Make the Most of Landscaping
Plants can actually help keep the indoors fresh, well-ventilated and cool, which is especially necessary during the summer. When indoors are relatively cool you will not need to use air conditioners or fans much. Consequently, less electricity will be required. Make gardening and plants a staple in the rooftop and balconies. Concrete hollow blocks can also be used to install certain landscaping and interior design elements, which shows how versatile it truly is. Landscaping and sustainable interior designs are not only pretty to look at but also very cost-effective and eco-friendly. Try to incorporate reusable items and recycled materials during the design process.
Keep Home Automation Features
Smart Home features can make life incredibly comfortable and easier. If you use them properly, you can save on a lot of electricity. For example, you can use automated curtains to block out intense sunlight during the afternoon and reduce heat build up in your interiors, or use remote controlled air conditioners in certain times of the day to reduce usage of electricity. Automated drying racks, light sensors, fingerprint security lock, smart hub, and many other Smart Home elements are available at Get Smart by bti. Give it a try for a cosier lifestyle.
Choose Pavement Tiles & Unipavers for Flooring
Pavement tiles and unipavers from bti Building Products are ideal choices when it comes to flooring. They can be made in custom sizes according to your specifications and come in different colors. Pavement tiles can be used to create elegant footpaths, driveways, parking lot floors, rooftop floors, walkways, and more. Unipavers also offer versatile flooring options and can be used in a similar manner. Just like the concrete hollow blocks, our pavement tiles are also made sustainably with an eco-friendly approach. Pavement tiles can also be used as flooring for your gardens and balconies as landscaping elements.
Using eco-friendly building materials will not only create a sustainable home that will last a lifetime, but also save the planet. Taking the first step is not too late. Build your home only with the best building materials in Bangladesh. To order our building products call 16604, or Whatsapp: +88013130401405 or visit www.btibuildingproducts.com